Poles in the UK
"Poles in the U.K" Intergroup / Intergrupa "Polacy w UK" (informacja po polsku poni┼╝ej, przepraszamy za brak polskich znakow)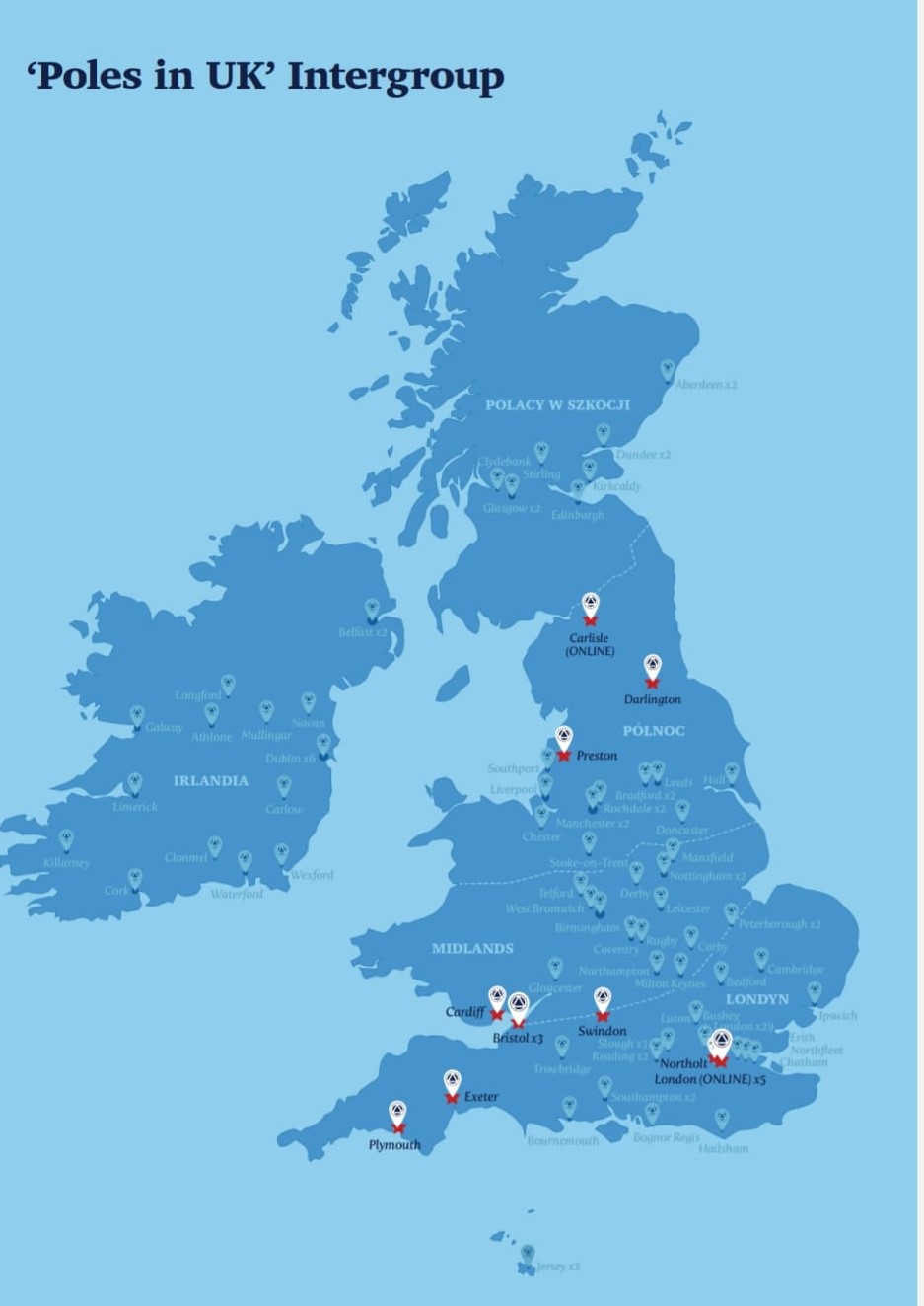 "Poles in the U. K. " Intergroup aims to:
*Support our groups in the common purpose of carrying the AA message to the still suffering alcoholics
*Reach the places where Poles are present but Polish speaking AA groups are scarce
*Develop and maintain good relations between Polish speaking groups in the UK and both British and Polish AA structures
*Share articles between our official AA magazines
*Raise awareness of Polish AA fellowship presence in the UK within local AA structures, so that every potential Polish newcomer can find us easier to reach
What does Poles in the UK Intergroup do?
- we sent out our two languages cards with AA helpline number to the Polish shops and churches across UK in regions, where are no Polish speaking AA groups.
- we liaise between Polish (WyspiAArze) and British (Share, Roundabout) AA magazines by translate and exchange our articles.
- we supply libraries with foreign language sections with copies of Big Book translated into Polish.
- we aim to raise awareness of Polish speaking Fellowship in UK by visiting Regions meetings and keeping in touch with Intergroups.
- we inform English speaking Fellowship about Polish speaking meetings, helpines numbers and 12steppers by giving away leaflets.
- we offer a contact with other nationalities AA members.
Intergroup meets every two months on Sunday mornings on Zoom.
The next meeting will be held on the 19th November 2023.
More info:
https://aa-london.com/resources/anonimowi-alkoholicy-polsku-wielkiej-brytanii/
Intergrupa AA Polacy w UK od wrzesnia 2021 laczy w niesieniu poslania kilkanascie polskojezycznych grup AA, zarowno stacjonarnych jak i online z roznych stron Wielkiej Brytanii. Zaistnielismy ponad podzialami geograficznymi. Za kluczowe w niesieniu skutecznego poslania w UK uwazamy wspoldzia┼?anie z brytyjskim AA, dlatego przylaczylismy sie do angielskiego regionu. Wybralismy Region London North jako ten, ktory nas w tym wymiernie wspiera, np oferujac wsparcie finansowe na niesienie poslania, ubezpieczenia grup, oddajac do uzytku podstrone internetowa.
Staramy sie dotrzec przede wszystkim tam, gdzie polskojezycznych mityngow nie ma i w miejsca gdzie nie siegaja nasze polskojezyczne intergrupy. Zaczelismy od polskich sklepow i kosciolow w miastach, gdzie nie ma polskich grup AA, a z pewnoscia zyja w nich Polacy. Do bibliotek wysylamy Wielkie Ksiegi, w ktore, jak i w wiekszosc literatury zaopatrujemy sie w York. Na angielskie Regiony rozdajemy wizytowki z numerem londynskiej infolinii. Te wedruja dalej do intergrup, a stad do brytyjskich grup, gdzie kazdy Polak moze sie o nas dowiedziec i skontaktowac sie z dyzurnym w PIK. Tam gdzie dzialanie, tam trzezwienie!
Naszym idealem bylo stworzenie pomostu miedzy polskojezycznym a anglojezycznym AA. W koncu czesto wynajmujemy te same sale i znamy sie prywatnie. Dlatego tlumaczymy artykuly z WyspiAArzy do Share i Roundabout, publikujemy informacje o nas na oficjalnych stronach brytyjskiego AA.
Dzialamy z Brytyjczykami jak i poprzez nich. Informacja publiczna, lacznicy z bibliotekami, regionami, szpitalami i parafiami wyslali juz kilka tysiecy wizytowek PIK-u na teren calej Wielkiej Brytanii. O skutecznosci podjetych przez nas dzialan swiadcza emaile od brytyjskich profesjonalistow i telefony od nich do PIK, jak rowniez potwierdzenia o przydatnosci i zainteresowaniu nasza literatura z bibliotek.
Ze wzgledu na duze odleglosci spotykamy sie na zoomie raz na 2-3 miesiace. Nasza intergrupa jest otwarta na grupy, jak i osoby indywidualne chetne podjecia sie dzialan w celu dotarcia do cierpiacrgo alkoholika. Jest naprawde wiele do zrobienia. Na szczescie nie musimu wylamywac drzwi, ktore od lat sa otwarte przez brytyjskie AA, a nasi sluzebni pozostajac w kontakcie z nimi maja ulatwione zadanie.
Intergrupa spotyka sie raz na dwa miesiace w niedziele rano na platformie Zoom.
Nastepne spotkanie odbedzie sie 19 listopada 2023.
Wiecej informacji na stronie:
https://aa-london.com/resources/anonimowi-alkoholicy-polsku-wielkiej-brytanii/

Tresurer Chris W.
Healt Liaison Officer Dorota: health.poles@aamail.org
Literature secretary Tomek P: literature.poles@aamail.org
Prison Liaison Officer Oskar prisons.poles@aamail.org
Public Information: Daniel
Polish Parishes Liaison Officer Michal
Polish speaking HELPLINES:
0203 916 00 97 (London Intergroup) - Monday-Friday between 7pm-9pm, weekends between 5pm-9pm.
0121 286 7606 (Midlans Intergroup) - every day between 6pm-9pm.
07598853255 (Poles in Scotland Intergroup) - every day between 7pm-9pm.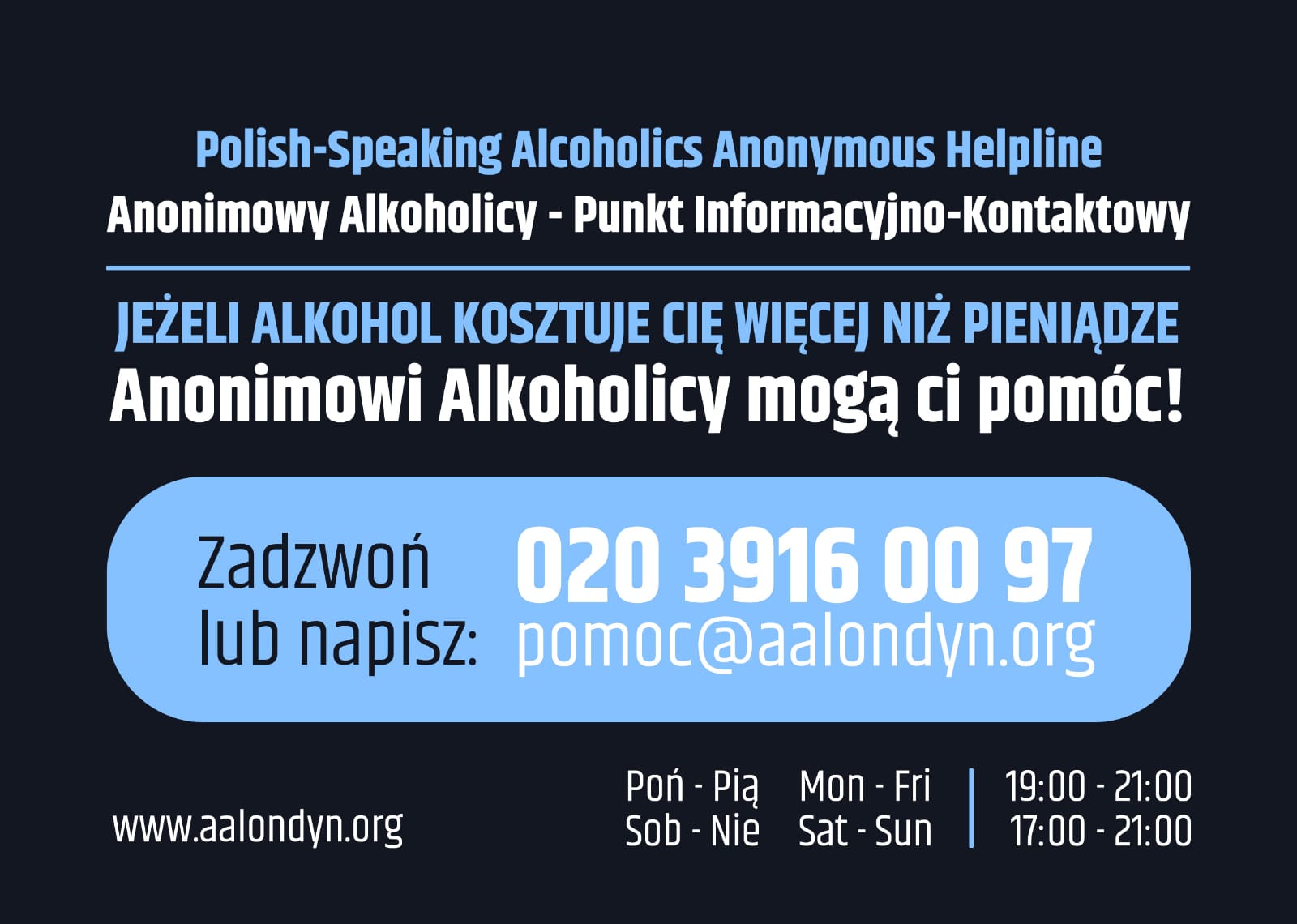 MEETINGS:
"Poles in the U.K." Intergroup comprises 16 meetings per week, taking place all over the UK, some of them occur online, others - face to face.
Polish written AA websites
(Polskojezyczne strony internetowe Anonimowych Alkoholikow)
https://aa-london.com/resources/anonimowi-alkoholicy-polsku-wielkiej-brytanii/

https://aalondyn.org/

https://intergrupamidlands.co.uk/

https://polacywszkocjiaa.co.uk/

https://aa24.pl/pl

The list below indicates all meetings within this Intergroup. To search for specific meetings, please use our Meeting Finder.
Bristol Przyjaciele Billa W Polish Speaking
Thursday
Polish Roman Catholic Church of the Matka Boska Ostrobramska, Cheltenham Rd
Time: 18.00 - duration 1hr
Postcode: BS6 5RH
Bristol Przyjaciele Billa W Polish Speaking
Sunday
St Mary Church, Cheltenham Rd
Time: 17.00 - duration 1hr
Postcode: BS6 5RH
Bristol Uwierzylismy Polish Speaking
Wednesday
Community Church, 170 Kings Weston Ln
Time: 19.00 - duration 1hr
Postcode: BS11 0QP
Cardiff Freedom Polish Speaking
Monday
Dom Polski, 174 Newport Rd
Time: 19.00 - duration 1hr
Postcode: CF24 1DL
Exeter Jezyk Serca Polish Speaking Hybrid
Thursday
The Sacred Heart Church, 25 South St
Time: 18.00 - duration 1hr
Postcode: EX1 1EB
Krok po Kroku Polish Speaking Online
Saturday
Zoom meeting ID: 82392500847 https://us06web.zoom.us/j/82392500847
Time: 19.00 - duration 1hr

London Online to Dziala Polish Speaking
Tuesday
Zoom meeting ID: 960 0410 8254 https://zoom.us/j/96004108254
Time: 20.30 - duration 1hr

London Trzezwosc Emocjonalna Polish Speaking Online
Friday
Zoom meeting ID: 923 3724 3426 https://zoom.us/j/92337243426
Time: 19.00 - duration 1hr

London Wirusek Polish Speaking Online
Tuesday
Zoom meeting ID: 876 129 634 Password: wirusek https://zoom.us/j/876129634
Time: 12.00 - duration 1hr

London Wirusek Polish Speaking Online
Thursday
Zoom meeting ID: 876 129 634 Password: wirusek https://zoom.us/j/876129634
Time: 12.00 - duration 1hr

Northolt Szczesliwi radosni i wolni Polish Speaking
Saturday
Northolt Village Community Centre, The Manor House, Ealing Rd
Time: 11.00 - duration 1hr 15mins
Postcode: UB5 6AD
Plymouth Pokochaj Siebie Polish Speaking
Tuesday
Church of Christ the King, Armada Way
Time: 18.00 - duration 1hr
Postcode: PL1 2EN
Preston Oczekiwanie Polish Speaking
Sunday
St Maria Goretti Presbytery, Gamull Ln, Ribbleton
Time: 19.00 - duration 1hr
Postcode: PR2 6SJ
Swindon Akceptacja Polish Speaking
Friday
Salvation Army, Booth House, 1 Spring Close
Time: 19.45 - duration 2hrs
Postcode: SN1 2BF