Glasgow South Intergroup
Glasgow South Intergroup represents 80 groups within the south of the city and a few outwith the city boundary.
Upcoming meetings:

7th June 7:00 pm
7th August 7:30 pm
3rd October 7:30 pm
6th December 7:30 pm
5th Feb 2019 7:30 pm

Doors open 30 minutes before meeting starts.

All meetings at Couper Institute, 86 Clarkston Rd, G44 3DA (Click address for a map)
We welcome, as an observer, any member of the Fellowship who wishes to find out more about our structure and areas of service.
Please note that only Group Service Representatives and Liaison Officers are eligible to vote. If you are not a GSR or LO and would like to bring a matter to the attention of intergroup we respectfully request that you make your contribution known to the chairperson before the meeting starts.

---
Glasgow South One Day Convention
Click to download the flyer.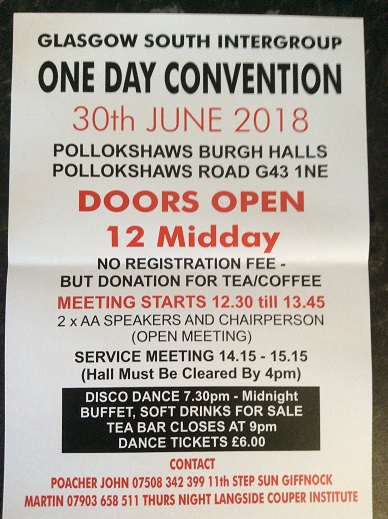 Local Meetings
You can download the latest version of the local Glasgow South 'Where to Find' on
this link.
---
AA Service and AA Structure Handbooks
It is hugely beneficial to be familiar with the Service Handbook and Structure Handbook when becoming involved in service at any level. Please click on the links below to read the handbooks.
AA Services Handbook 2017
AA Structure Handbook 2017
Registering your group with AA York
It is important that you let AA York know of any changes to your group's location, contacts or times. It is also important to register new groups.
Click
here
to register your group online or to update an existing meeting's details.