South Bedfordshire
Intergroup
PI Activity - September 2017
North Luton PI Initiative
A major PI initiative is underway in North Luton. This area has a bigger population than Dunstable & Houghton Regis combined, yet holds only one meeting a week, in
Lewsey
. A Public Meeting was held on 23rd August at Futures House in Marsh Farm. The PI Committee invited professionals to inform them of our intention to raise our profile in North Luton. More details can be found
here
.
Group PI Activity
The PI Committee is preparing a list of GPs, Community Centres, and Places of Worship that are local to individual groups' meeting venues. GSRs will be issued a list of places where posters and leaflets can be displayed. We will issue a pack containing posters and leaflets to individual groups. We hope to complete the list and have packs ready by next Intergroup Meeting on 3rd December.Example list below
Local Radio
Three Counties Radio have approached us to ask if we have an available AA representative when alcoholic topics are being broadcast. Ideally we are looking for two people, (male and female) plus one reserve. If anyone is interested in radio talks and they have the appropriate term of sobriety, contact us via the email address pi.sbedfordshire@aamail.org. Some training and advice on broadcasting will be given in line with the AA Traditions.
Advertising Banners
We've obtained some advertising banners for use at PI events. They are eye-catching and display GSO approved images and contact information.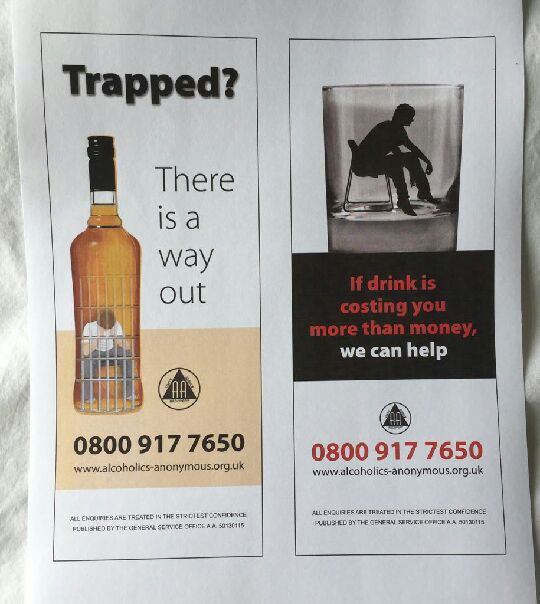 Best regards
Pab K
Public Information Liaison,

South Beds Intergroup.